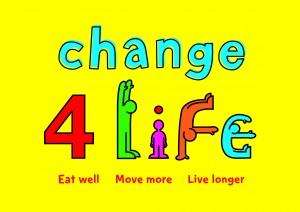 What is Change 4 Life?
Change 4 Life Sports Clubs is an exciting programme that aims to harness the inspiration of the Olympic and Paralympic Games to engage the less active primary and secondary aged school children in physical activity and school sport. 
Change 4 Life Sports Clubs take the principles and specific skills from a range of Olympic and Paralympic sports and place them in a fun, vibrant and exciting activity club giving young people the confidence and competence to take part in lifelong physical activity.
Schools can help engage less-active children in physical activity and school sport by setting up a Change 4 Life Sports Club in their area.
Since March 2020, COVID-19 has impacted upon everyone's lives. Schools have noticed some negative effects of this pandemic on children such as an increased loneliness, isolation, anxiety, worry, lack of motivation, inactivity and a reduction in physical fitness and movement skills (amongst many others). 
The School Games Organisers across the North West put together a physical activities directory for primary schools to use to help the children in the school. Once a school has identified how a child has been affected by COVID-19, they can then have a look at the Activities Directory below which will give them links to activities that they can do to support any interventions the school plan to provide.
Chester COVID Activities Directory - PRIMARY
We also put together some resources for KS1, KS2 and secondary for a Change 4 Life Week. This covers areas such as physical activity, healthy eating and mental health and well being. 
You can use these resources as and when you like, and however best fits in with the school. Resources can be downloaded here: 
Primary Clubs
Primary clubs capture the essence of the sport without directly delivering sport-specific content, and were originally grouped under five multi-sport themes: Adventure, Creative, Combat, Flight and Target.
Many clubs have been called something different to 'Change 4 Life Club' to give schools and pupils greater ownership of the club. Schools which have such clubs either originally set up as a Change 4 Life Club, or that operate within the same ethos and principles of Change 4 Life Clubs can still do so. Now Change 4 Life Clubs can be any sports club at a school which is aimed at the "non-sporty" child.  
To find out more information about Change4Life sports clubs click the link below:
If your school would like help in setting up a club for 'non sporty' children or would like help in sustaining your club, then please do contact your School Games Organiser. 
For examples of Primary Change 4 Life Clubs in our schools, please see the case studies below:
Primary Change 4 Life Sports Club case study Barrow
Primary Change 4 Life Sports Club case study Dee Point
Primary Change 4 Life Sports Club case study Delamere
Primary Change 4 Life Sports Club case study Lache
Primary Change 4 Life Sports Club case study Oldfield
Primary Change 4 Life Sports Club case study Saughall All Saints
Primary Change 4 Life Sports Club case study Upton Heath
Primary Change 4 Life Sports Club Mickle Trafford